During a Whole Foods excursion this week, I stumbled upon a 4-pound carton of organic blueberries for a mere $6. I steadied myself to purchasing only one, but I've been thumbing through recipes all week to decide what to make with them. I finally narrowed it down to the three I made today. Two were hand-copied from my mom's archive. I have no attributes for them, though I'm sure they were born of a long-ago potluck exchange. One recipe appears to have been poorly copied (I will not fault my mother for this), and so the Blueberry Upside-down Cake is missing over half of its cakiness. I was supposed to layer blueberries inside the cake, and then pour the rest of the batter over top that. I ended up having barely enough batter to cover the original blueberry layer. Optimistically I thought, wow, it's going to rise really far for so little batter. Ha. I've ended up with a tallish pancake, perhaps I could call it a claflouti instead. For those reasons, I'll not be sharing that recipe here, only the sad, determined picture, because the photo turned out good.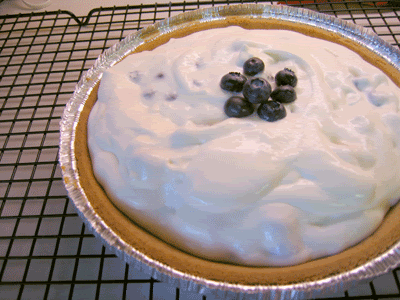 Blueberry Whipped Cream Pie
It's so easy to prepare and, in fact, was the first pie I ever helped my mom make. This recipe is super good on hot summer days, but it doesn't travel well. Must be served cold, so plan ahead!
For the crust:
I used a purchased graham cracker crust, but any homemade recipe will do. Cook crust to package or to recipe's directions, then set aside to cool.
For the filling:
4 c. mini-marshmallows
3 T milk
1-2/3 c. blueberries
1 c. heavy whipping cream
On the stove over medium heat, stir together the marshmallows and the milk in a saucepan until marshmallows have melted. Set aside to cool. When cool, fold in the berries. In a separate bowl, whip the cream (don't add sugar!) until stiff peaks form. Fold the cream into the berry mixture and scoop everything into the pie shell. Refrigerate for one hour then serve cold.
Note: As an alternative, I nearly always freeze this pie. It's weird, I know, but the marshmallows keep the filling smooth and it's so nice to eat instead of ice cream after a BBQ. It's in my freezer right now!
Lemon-Blueberry Scones
This recipe works really well doubled, as you can see in the photo.
2 c. flour
2 T sugar (plus more for dusting)
1 T baking powder
grated zest of a lemon (an orange will also work)
1/4 tsp salt
4 T cold butter, cut into thin slices
2 large eggs
1/2 c. cold, heavy cream
1/2 c. blueberries
Preheat oven to 400 degrees. Place the rack in the center of the oven and spray or line a baking sheet. Measure out the flour into a bowl and reserve 1 teaspoon. Combine the rest of the flour, sugar, powder, zest and salt in the bowl. Use a food processor or fork to cut in the slices of butter until the butter is no smaller than a pea. In a separate bowl, mix the eggs. Add the cream to the eggs and mix again. Pour egg and cream mixture into the flour, and stir to make a dough. Pour the reserved teaspoon of flour over the blueberries and stir to coat, then gently fold into the dough. Flour a clean work surface and turn the dough out onto it, kneading gently (not like bread!) until it just sticks together. Work the dough into a circle about 1-2" tall, then cut into eighths. Roll the scones over the extra sugar and place 1" apart on the baking sheet. Bake for 12-15 minutes, until crusty and golden. Makes 8 large scones or 16 small ones.