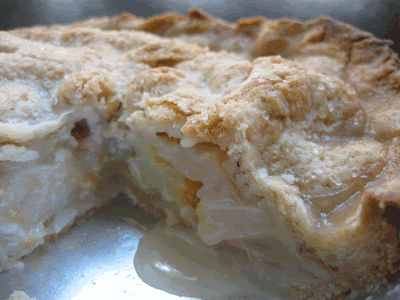 I've not always been a pie fan. In fact, pie is one of the few things I never buy, ever, and only crave a bit of the pumpkin variety come November. So when I started making pies for the bakery, now more than a year ago, I was surprised to find that I could even make pie. And people came back for it. I had a rhubarb crunch pie that people had on reserve, so the pie would be made and all six fat wedges pre-sold. How ridiculous is it that I never even tasted that pie? It MUST have been good, but I wouldn't really know.
My second foray was pecan, only because the pie went over so well I thought I should have a fall variety and nuts make a cheaper pie filling than fruit. Nobody should pay more than $4/slice for pie. Pecan pie is one of those things I've actually never tasted in my life. Still. That one also sold, but I kept to my anti-pie credo.
This leads me to the actual pie of today, whose crust I made up after a few test runs with combining directions for a Martha Stewart jam tart (I DO like tarts) and the standby pie crust recipe I adopted from a now-forgotten magazine. I'd started making jam tarts for the bakery booth because they're cute and because, if I ate pie, I certainly wouldn't want ten slices of it. By the time you get to the end, the crust is mushy, so you're eating it breakfast, lunch and dinner. Yuck. I'd prefer to eat cake for those three meals. Well, one week I had leftover crust from my experiment and I decided to use up some tired fruit in the kitchen basket. I had a nice pear that I didn't feel like eating and a few worn blackberries, plus a peach. What better time to invent a new kind of pie? I searched the refrigerator for inspiration and found a lonely Ginger-Pear jelly. To be honest, the jelly was decidedly too strong for toast, so it was awaiting its demise in the far corners of the fridge. I sliced up the pear, doused it with a spoonful of sugar and some lemon. Then I spread the jam over the 3" mini-crust, poured over the pear and lattice-topped it. The blackberries and peach kept each other company in the second crust, doused with cinnamon. Both pies baked, glistened with sugar, and cooled. I actually ate the peach pie first. Mmmm, lunch. But later I found the pear was actually calling to me. I ate it, not expecting much. Yet this is the pie I've been thinking about for weeks. It's THAT delicious. The pear gets soft and mellows, melds with the jelly perfectly, and then there's the touch of almond in the crust that makes it extra crisp. Yes, after more than three decades of life, I'm becoming a fan of pie.
So imagine how lucky I felt when the last of our sixteen recent storms (in only 3 days) knocked a few beautiful pears from my neighbors tree. Yep, pie at our house.
Pear Pie
Makes one 6" double-crust pie
Crust
3/4 cup flour
3 T sugar
2 T ground almonds
pinch of salt
4 T cold, unsalted butter
1-3 T ice water
Filling
2 big bartlett pears, a bit underripe
juice from 1/4 of a lime
1 tsp flour
2 T sugar
2 T pear jelly, whatever kind you have (I used
Colorado Mountain's Organic Ginger Pear
Extra sugar and half-and-half or cream for topping, optional
Make the crust by mixing the dry ingredients together first and then cutting in the butter. Try to go quickly or use a food processor on this because the colder you keep it the crisper your crust will be. Once your mixture has the consistency of clumpy sand, add in the ice water a tablespoon at a time. You want to add just enough that the dough will gather into a ball. Wrap it up with saran wrap and put it into the fridge to chill while you make the filling.
Wash and dry your pears. Cut out the center and seeds, then slice them thinly into a bowl, skin and all. Take care to cut out any hard bits. Douse the lime juice over the pears and mix together gently, then add in the flour and sugar. Let them sit while you roll out the crust.
Heat your oven to 350º. Dust some flour onto the countertop and divide the crust in half. Roll out one half to fit your pie tin and place it inside. Spread the bottom crust with the pear jelly, as evenly as you can. It'll melt and smoosh around so it's not a big deal. Heap the pears over top of the jelly. Roll out the second crust, just to cover the pie, and let the edges hang over the sides. Pinch the top and bottom crusts together all the way around the pie, then use a knife to make a decorative carving in the crust or just stab it a few times to let the steam vent.
Brush the top with cream, if you're using it, and sprinkle with a bit of sanding sugar or raw sugar. No big deal if you don't use it, just makes things pretty.
Bake for 30 minutes, using a cookie sheet to catch any extra drips. (Come back here and look at the pictures again to stretch your patience.) Turn the pie and bake another 20 minutes. The crust will be golden brown and any juice that leaked over your crust should be thick, ready to set. Let the pie cool as much as you can before you eat it.