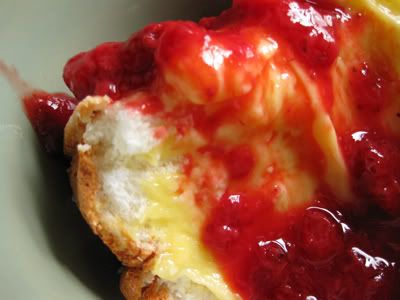 Browsing along in my food magazines the Saturday before my inlaws' Easter dinner, I read a recipe for Lemony Angel Food Cake in

Martha Stewart Living

. I'd been asked to bring dessert already and knew dinner would be on the heavy side, so I was searching for something light, preferably lemony. I've never made angel food cake. I even have a cake mold from the secondhand store that I've never used.


For some reason, I can never justify using a whole crate of fresh eggs. It's a mental block. I had to use egg powder instead, which worked beautifully. While you don't need to make the curd, you'll find yourself with six leftover yolks and lots of naked, zested lemons. In my mind, that's a great excuse for curd.


The cake was perfect! Light and fluffy, a soft, pillowy goodness that I spread with lemon curd and drizzled with strawberry sauce.
Lemony Angel Food Cake with Lemon Curd and Strawberry Sauce
Lemony Angel Food Cake
Cake recipe only adapted from

Martha Stewart Living

, May 2009 issue, page 170-171
1 cup sifted cake flour, not self-rising
1/2 cup sugar
1/4 cup dried egg white powder
3/4 cup warm water
6 large egg whites
zest of three large lemons
2 T lemon juice
1 tsp cream of tartar
1 tsp vanilla
pinch of salt
1 cup sugar
Preheat the oven to 325º and set the rack on the bottom third. In a small bowl, sift together the cake flour and 1/2 cup of sugar. Set aside.
In a mixing bowl, add the egg white powder to the warm water, mix briefly and let set to dissolve. Meanwhile, zest and juice the lemons and separate the eggs, keeping the egg yolks and leftover, unsqueezed lemons nearby for the curd recipe, below. Add the egg whites to the mixing bowl and whip for a minute, until frothy. Add the lemon zest, juice, cream of tartar, vanilla and salt, and whip the eggs for another 2-3 minutes on medium-high speed. The mixture should form soft peaks, meaning you can see the trail of the beaters in it just for a second or so. Keeping the mixture running, drizzle in the sugar slowly. Continue to whip the eggs until the peaks stay when you lift the beater out of the batter, firm but not stiff — if you whip it too far you'll get meringue. Sprinkle the flour and sugar mixture over the eggs in two batches, folding gently to incorporate each addition. Once they're combined, spoon the batter into an angel food mold. Smooth the top and run a knife in a circle around the pan, gently, several times to prevent air bubbles. Bake the cake for 45-50 minutes, until a long toothpick inserted in the center comes out clean. Invert the cake immediately, setting to cool upside down on a heat-safe surface for at least an hour.
Once completely cool, run a knife around the edges to loosen from the sides and center, then slide out the center piece and run the knife around the bottom. Invert to right side up, and place on a cake platter. Tightly wrap any leftovers.
Lemon Curd
1/2 cup to 3/4 cup lemon juice (whatever you get from your remaining lemons
6 egg yolks
3/4 cup sugar
pinch salt
3/4 cup cold, unsalted butter (1.5 sticks)
Heat 2-3 inches of water to a boil in a small saucepan. Find a heatproof bowl to fit snugly over the top of the pan without touching the water and use this to make the curd. While you're looking for things, find your candy thermometer.
Once the water boils, place the lemon juice, egg yolks, sugar and salt into the bowl and stir constantly. If you don't stir it until it's at least 120º, the sugar will cook the yolks and make hard chunks, so try not to leave untended until it's quite warm. You're going to cook this, stirring often, until the mixture has reached 180º. It will thicken and be a bright yellow in color. Take off of the water carefully — don't burn yourself with the steam! — and let cool to 140º, stirring occasionally to release the heat. When the curd has cooled, cut the cold butter into thumb-sized pieces and whisk them in two at a time. They will melt slowly and thicken the curd, lightening the color and texture.
Let cool to room temperature to use that day. This recipe makes about 2 cups, which is a lot. Lemon curd keeps 2-3 weeks in the refrigerator and is delicious on scones.
Lemon-Scented Strawberry Sauce
4 cups frozen unsweetened strawberries (or 3 cups frozen + 1 cup fresh, whatever you have)
juice of half a lemon
1/2 cup sugar
1/4 cup water
pinch salt
Place all ingredients in a saucepan over medium heat until the berries thaw and it starts to boil. Turn down to low-medium heat. You want it to reduce and thicken, but not splatter all over the stove. Take a potato masher and gently squish the berries a few times, just to break up the big ones and get a nice consistency to the sauce. Let it bubble about 15 minutes, then take off the heat and let cool. Keep at room temperature until ready to use. Refrigerate leftovers.