Workouts. . .
10-minute yoga session
I did such a good job today of taking internal inventory before eating something. I brought a snack to work that I didn't end up eating because I'd already had several bites of a cake someone baked for us and wasn't really hungry. I also stopped eating dinner after two tacos, rather than gorging on the third like I usually do. And then before bed, it was easier to realize that I just wanted something to munch on and wasn't hungry, so I ate a Clementine instead. I'm feeling pretty proud, so today I'll probably eat an entire cake or something to make up for it.
So, the other day while shopping I found this vegetarian chili that my mom used to get us when we were little. I think at the time it was the only completely veggie chili on the market. Anyway, she used to add it to tacos, more fiber you know with the beans. I've tried to reconstitute her recipe (below) and it went pretty well. I'm wondering if there's another type of burger I could try or if I didn't cook it long enough. Mom used to let it simmer for what seemed like an hour before we could eat, and maybe then the canned taste would dissipate completely. Next time. . . .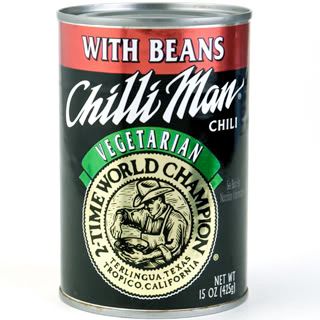 Veggie Taco Mix
1 onion, diced
2 T oil
1 can Worthington Veggie Burger
1 can Chilli Man vegetarian chilli (Whole Foods stocks this)
1/2 can water
1 packet your favorite taco seasoning
Saute diced onion in oil using a large pan over medium-high heat. When browned, add Veggie Burger and brown lightly (it doesn't brown the same way real burger does, so mostly it just turns an overall darker tone when cooked), breaking up with the spatula. Add water and taco seasoning, stirring to mix thoroughly. Then add chili. Turn stove down to low, and let simmer until you're ready to eat it. Makes at least a dozen well-stuffed tacos.
What I ate today. . .
tea with milk, as usual, toasted wheat English muffin with 1-1/2 T peanut butter; leftover Thai food, about 2 cups with rice; a tall pumpkin chai and several bites of chocolate cake, still not equal to a piece; 1 c. grapes; two veggie tacos with filling (above), sprinkle of cheddar, salsa, avocado, RF sour cream, lots of tomatoes and lettuce; non-caffeinated tea and a Clementine.