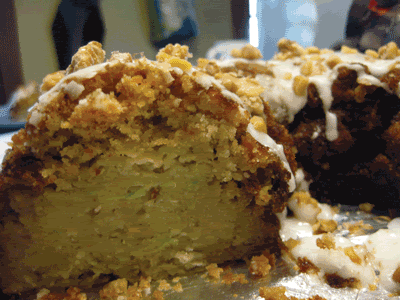 Do you have too many summer squash? Ha. If you planted even one zucchini plant this year, you're sure to have gone away for the weekend at some point and returned to a handful of squash cousins, some of them well into middle age. It's terrible. I devised this recipe as a way to use up six admirably-sized squash at a time, and I mix them together, zucchini, yellow summers and even the patty pan varieties.
Before you start tweeting your friends, first stop and consider whether you really appreciate the texture of pudding bundt cakes. You know, they're sort of crusty at the edge and then go progressively to goo in the center, almost in a jiggle-able, eggy way? That is so totally this guy. Made almost entirely of summer squash, this cake is dense and filling with a light spice flavor that turns zucchini into an entirely different bird.
Loosely based on a recipe for coffee cake, this cake also makes a great breakfast, hearty and filling, with enough of a touch of lemon to hit the lighter notes that denotes morning. Goes well with coffee, too, and that's important.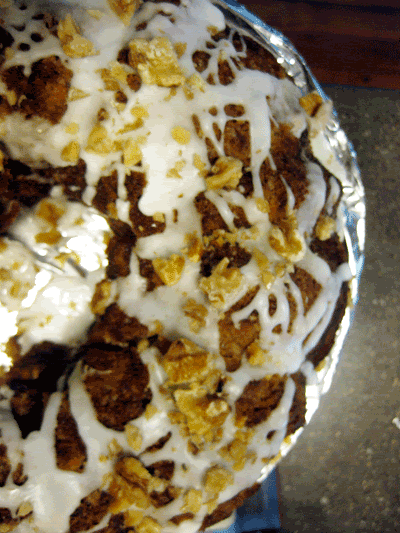 Zucchini Pudding Bundt
Makes one large bundt cake
Crumbles
4 T cold butter
1/2 cup flour
1/2 cup brown sugar
pinch of salt
Cake
3/4 cup vegetable oil
1/2 cup sugar
1/3 cup maple syrup
3 eggs
2 tsp lemon juice
1 tsp ground cinnamon
1/2 tsp ground cardamom
5-6 cups shredded squash, any variety or a mixture, extra water squeezed out*
1-1/2 cups flour
1 tsp baking powder
1 tsp baking soda
1/2 tsp salt
1 tsp lemon zest (optional)
Icing
2/3 cup powdered sugar
2 tsp lemon juice
2-3 T water
14/ cup toasted walnuts, slightly crumbled
For this recipe, use a 10-cup bundt pan, very well buttered or greased, set aside. Be aware that if your bundt has ridges, as mine did, the cake will not release very well. Heat your oven to 350º.
Make the crumbles by cutting the butter into the other ingredients in a small bowl. Sprinkle the crumbles into your prepared bundt pan, letting most of them fall into the bottom, but also sticking some to the sides.
Start the cake batter by mixing the oil, sugar, syrup, eggs, and lemon juice in a bowl. Add the cinnamon and cardamom and whisk to combine.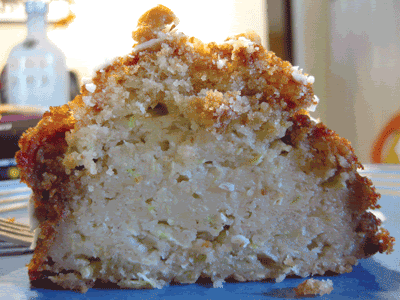 Place your shredded squash into a second, larger bowl. Sift the flour into the bowl over the squash and add the baking powder, soda, salt and zest, if using. Use your hands to toss the flour into the squash. The mixture should be dry and the squash shreds should be separated and coated with flour. Pour in the wet ingredients, using a spoon to mix well. (You might be surprised that it looks like a whole bunch of squash in a very thin batter. If this is the case, you're doing it right.) Spoon squash into the bundt pan, making sure to even it out as this batter won't right itself.
Bake at 350º for 75-90 minutes, depending on your oven. Use toothpicks to test the doneness of the cake. It will brown on the top and the toothpick should come out clean. Even though the center of the cake is dense and pudding-like, it will set. Let the cake cool 10 minutes, then flip your pan over a plate or another pan lined with foil, which will allow you to move the cake more easily after it's cool. Cool to room temperature.
Mix the icing ingredients, except the walnuts, together until smooth. Drizzle over the top of the cake and the sides in a decorative pattern. Sprinkle the wet icing with the walnuts. Let set 10 minutes and then serve.
*You can use either 5 or 6 cups of squash, whatever you have. This recipe will work either way, so I don't even measure, just eyeball it.