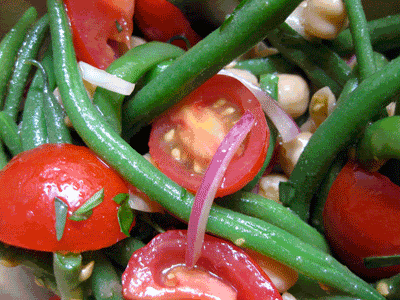 Simple, flexible and delicious, this cold salad is an effective use for leftover steamed beans. I have been picking mine — gorgeous purple beans intermixed with haricot vert and traditional green beans — and am a bit tired of the usual steamed with butter drill. (And don't bring up the completely overused dill idea, which I've been avoiding since the overdose in early June. Ugh.) With two pounds of beans and counting awaiting use in my frig, I'd been poring over cookbooks hoping to find something just like this. Or sort of like this. Inspiration struck from a recipe in
Cooking Light
magazine or maybe it was just a beam of light from the window, illuminating the tarragon component of a salad. I didn't grow any tarragon and have no real idea if I liked it, but I went out and bought some anyway. It's got a very light licorice component to it, which doesn't overpower things but adds a different flavor than any other herbs I've got.
What I like about this salad is you could add about any bean or herb and have something completely different. The original recipe had olives and artichoke hearts in it, which are also good but, for me, not summer vegetables. I don't like to use so many canned things when fresh are widely available. But I'm keeping that idea alive for winter when the tomatoes start to go to mush.
Tarragon Bean Salad

Serves 4 as a side, 2 as a main
1# steamed beans, just crisp-tender, drained and cooled (green, purple, yellow, haricot or a mix)
1 can chickpeas, rinsed and drained
2 cups cherry or grape tomatoes, halved if large
1 small red onion, thinly sliced
salt & pepper to taste
Dressing
1/4 cup EVOO
1 tsp dijon mustard
1 T maple syrup
3 T champagne or white wine vinegar (apple cider vinegar will do in a pinch)
2 T tarragon leaves, minced*
2 T parsley, minced
In a small jar with a lid, mix the dressing ingredients. Shake it well and let them get acquainted. Set aside. Make the salad by cutting the beans into bite-size pieces and then tossing in the rest of the ingredients. Season with salt and pepper.
*If you don't have or don't like tarragon, use basil or dill. It's not at all the same, but the salad is still yummy.