These attractive eggplant boats are edible and delicious, and the filling is indeed, well, filling.

I've been wanting to stuff eggplants for a while, just wrestling with what to use as filling. I found an old recipe of my mom's called Sabbath Roast, who knows where she found it, that used to be a sagey bready stuffing baked meatloaf style. I loved it. But the basic elements were all there — cheese, protein, and spices. I sensed to be what these eggplants wanted to be mediterranean themed, so a few adjustments were made. These weren't the fastest thing I've made, but I liked how vegetable-centered they are. Using the eggplant as both delivery piece and filling keeps the ingredient list down and the presentation simple.

George loved these, though we both initially burned our mouths. Grr. Step back a moment and let them cool a little, is my advice.

Mediterranean-Style Stuffed Eggplants
4 small eggplants, washed and dried
4 eggs
1 spring onion or half a medium-size white onion, diced
12-16 oz vegetarian burger crumbles (use your favorite kind or Morningstar Burger Crumbles)
3 oz crumbled feta cheese
4 oz mozzarella, cut into small cubes + extra for the top
1/4 cup sundried tomatoes, drained and diced
2 tsp italian herbs (or 1 tsp each basil and oregano)
1 tsp black pepper
6 slices of whole wheat bread, toasted
Heat the oven to 350º and spray a sheet pan with nonstick spray. Cut the eggplants in half and use a melon-baller to scoop out the insides, leaving about 1/4" of flesh on all of the sides. Sprinkle each eggplant lightly with salt, set on the sheet pan and let rest while you prep the ingredients.
Whisk the eggs together in a large bowl. On a cutting board, dice up the insides of the eggplant that you just scooped out and add it to the eggs to keep it from turning brown. Add the onion, burger, crumbled feta, tomatoes, herbs, pepper, and half of the mozzarella to the bowl, stirring to combine. Stack the toast and slice into small cubes. Add these to the bowl last and mix everything completely.
Take a paper towel and gently wipe the middle of each eggplant, wicking away any moisture that the salt brought out while they sat. Sprinkle each eggplant boat with some pepper, then fill to the brim with the stuffing. Use your hands to press stuffing into the eggplants, mounding it over the top. Sprinkle the remaining cubes of mozzarella over the tops of the eggplants. Wrap the baking sheet loosely with aluminum foil, taking care not to let it touch the cheese.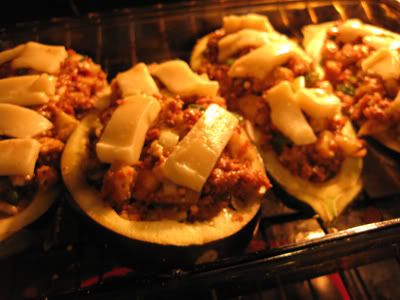 I baked mine in two batches, but I should have put them on a sheet pan.
Here they are, stuffed, ready to be covered in foil and baked.

Bake for 30 minutes. Remove the foil and bake another 30-40 minutes, until the eggplant boats are soft and the cheesy tops are browned. Let them rest for 10 minutes or so, so nobody burns their mouth. These are crazy hot, cheesy, filling and perfect with a huge greek salad.