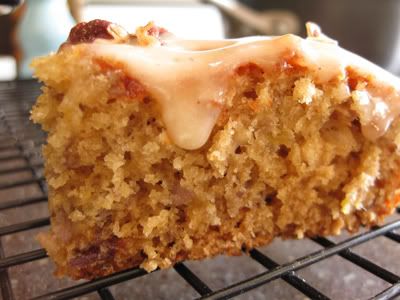 If you love bananas, you'll find these bars lip-smackingly good, especially with the addition of the browned butter frosting. Best of all, they're not half bad for you, health-wise.
Inspired by a recipe I found in
Cooking Light
, I still couldn't help adjusting and refining these to make them a bit healthier and banana-centric. I love bananas and am thrilled they're so upscale in this homestyle dessert.
Roasted Banana Bars with Browned Butter Frosting
Makes 16 bars
Roasted Banana Bars
4 bananas, sliced
1/3 cup dark brown sugar, packed
1 T butter, cut into small pieces
5 oz whole wheat pastry flour
4 oz all-purpose flour or cake flour, use what you have
3/4 tsp baking soda
1/2 tsp baking powder
pinch salt
2 eggs
3/4 cup raw sugar
1/4 cup low-fat milk*
1 tsp buttermilk powder*
1 tsp vanilla
2 T vegetable oil
1/4 cup applesauce, preferably natural, unsweetened
Frosting
1/4 cup butter
4 oz reduced fat cream cheese (half a package)
1 cup powdered sugar
1/4 cup honey
pinch salt
1/4 cup pecans or walnuts, toasted and roughly chopped
Heat the oven to 400º and mix the bananas with the brown sugar and T of butter pieces in a baking dish. Bake for 30 minutes, stirring midway through, and let cool, turning the oven down to 375º.
In a small bowl, weigh the flours and add the baking soda, salt and baking powder. In a second bowl, mix the eggs and sugar together, then add the milk and buttermilk powder, oil, applesauce and vanilla. When the bananas have cooled enough that they won't curdle your eggs, pour them into the wet mixture, smashing the bananas with a wooden spoon as you stir. Add in the dry ingredients, mixing just to combine. Butter or spray a 9"x13" pan and in pour the batter, spreading it evenly. Bake for 20 minutes, or until the edges start to pull away from the pan and the center is set. Turn the oven off and let the bars cool completely.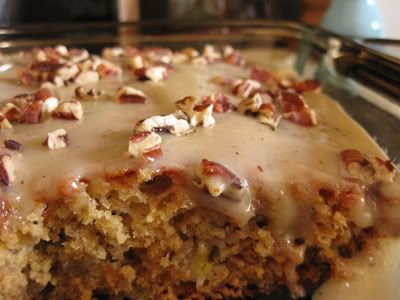 I couldn't resist cutting into these right away.
And then they were so delicious, I had to freeze the rest of them!


On the stovetop, melt the 1/4 cup butter in a small saucepan over medium heat. Continue to cook it until the color deepends to a brown, caramelly shade, and the butter starts to smell nutty. Turn off the heat and let cool 10 minutes. Add the cream cheese to the still-warm butter to melt it slightly. Once it's mixable, add the honey, powdered sugar and salt. Blend until smooth. Once the cake is cool, drizzle the frosting over it and sprinkle with the nuts. Slice and serve.
* If you keep buttermilk on hand, use 1/4 cup of it in place of both the milk and buttermilk powder here. I rarely buy buttermilk, instead I use the powdered version in the supermarket baking aisle and mix it with water or milk as directed.