Toasty and light, scones are some of my favorite things to bake. They're super easy, which I like, and you can whip up a batch in 10 minutes plus baking time. I'd been thinking of a few ways to make scones more healthfully, and this is the first iteration. Deliciously, these fiber-added scones blend the antioxidant kick of blueberries with the yum powers of butter. Don't be afraid.

Blueberry Scones with a Fiber Kick
1 cup flour, regular
1 cup whole wheat pastry flour
2 T raw sugar
2 T toasted wheat germ
2 T ground flaxseed
2 T wheat flakes (or oat flakes)
1 T baking powder
1 tsp lemon zest (or zest of a lemon)
1 tsp orange zest (or zest of an orange)
6 T butter, cut into small cubes
juice of 1/2 a lemon (or 1 T bottled lemon juice)
1/2 cup half and half or whole milk, plus more for
2 eggs, lightly beaten
1-1/2 cups blueberries, frozen
Heat oven to 375º and butter or spray a baking sheet with nonstick spray. Mix all the dry ingredients together down to the zests. In a food processor or using a pastry cutter, cut in the butter until the mixture looks like gravel. Pour in the lemon juice, dairy and eggs, mixing briefly, just to combine.
Scrape the dough out onto a small amount of flour on the countertop. Mix in the berries, kneading the dough together very lightly. If the berries fall out, poke them back inside. (This part will be quite messy.) Wash your hands, using your wet hands to pat and smooth the dough into a circle about 1" high. Cut the circle in half, then each half into thirds. Place on the prepared sheet. Pour a bit of your milk or half-and-half into a cup, then brush it onto the tops of the scones. Either sprinkle them generously with raw sugar now or finish with the glaze recipe below. No need to do both. Bake 25-30 minutes, until browned on top and the centers are set, not jiggly. Test with a toothpick if uncertain. Eat right away or let cool slightly and then add the glaze.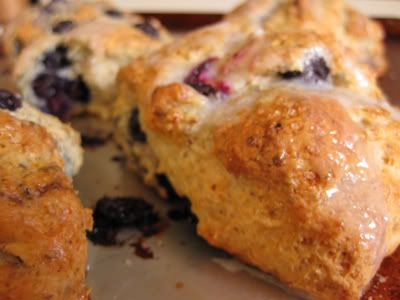 Browned and toasty, straight from the oven
Lemon Glaze
Juice of 1/2 lemon (or 1 T bottled juice)
2 T milk
1/2 cup powdered sugar
Mix together until smooth, then drizzle over scones. For a thicker or whiter-colored glaze, add more powdered sugar, up to 1/2 cup.