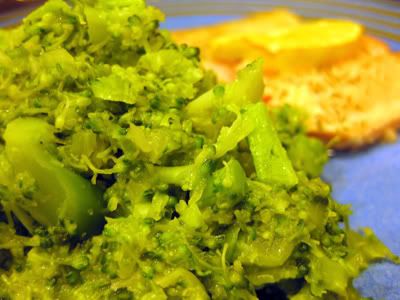 I love broccoli myself and can't understand why some people so revile it. But even my husband struggles with his desire to push it aside, uneaten. I think squished broccoli appeals to him with its promise of violence, and it gets eaten because the hated thing has changed to a chunky smash of green, a carrier for butter and cheese. Try this and the amount of broccoli consumed per meal grows exponentially — plus you even use the stems!
Squished Broccoli
Serves 4
2 pounds broccoli crowns, washed
1 cup vegetable broth (I used salt-free)
1/2 tsp salt
1/2 tsp olive oil
1/2 cup parmesan, grated
1 T butter
salt & pepper to taste
In a large pan, heat the vegetable broth, salt and olive oil until boiling. Chop the broccoli to 1/2" pieces, including the stems and leaves. When the broth is boiling, add the broccoli, top with the lid, and cook for 10 minutes. Remove the lid and turn off the heat. Use a potato masher to squish the broccoli into a big green mass — or let your broccoli haters perpetrate the violence. If there's lots of liquid on the bottom of your pan, pour it out until you can barely see it moving around. Add the cheese and butter, stirring to combine, and season to taste. Eat your broccoli!