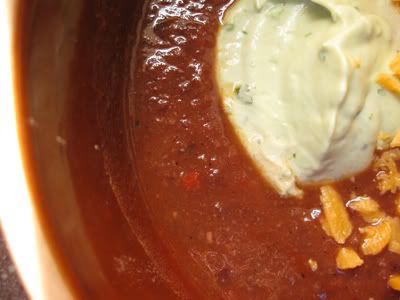 Few things are better on a cold day than hot soup, especially a soup with substance like this one. I'm not sure if I mentioned that the hubby has had some bad health news lately with high blood pressure, glucose and cholesterol levels. But, yes, it's true. So we've been experimenting a great deal with how to reduce salt, bad cholesterol (not coming from me!), and sugars. This soup resulted from my realization that canned beans are loaded with salt. I had no idea! Normally, I probably wouldn't worry about it either. Add to that the amount of salt in regular vegetable broth, however, and you're headed for trouble. I came home from the market following that realization with salt-free vegetable broth and dried beans, hopeful that I'd be able to cook them without too much trouble. An overnight soak, combined with a long, slow cook, made this soup relatively simple. If you plan to cook the beans first, the soup comes together quickly and easily after work, without much babysitting.
Black Bean Soup
Serves 4
2 cups dried black beans, picked over and rinsed
1 white or yellow onion, chopped
1 tsp garlic, minced
3 cups vegetable broth (I used salt-free)
28oz can peeled tomatoes
1 chili dried pepper, crumbled, optional but adds a nice heat
1 bay leaf
1 T chili powder
1 tsp ground cumin
1/2 tsp ground coriander
1/2 tsp salt
salt & pepper, to taste*
Rinse the beans and set in a large bowl (preferably glass to keep from staining). Cover with 3" of water and let sit overnight. In the morning, drain the beans. Brown the onion and garlic in a saute pan for 5-7 minutes. Add all of the ingredients to a crock pot and set to cook for 6-8 hours on low. Go to work. Come home. Stir the soup and check for seasoning, adding salt and pepper as needed. Use an immersion blender or transfer in batches to an upright blender to smooth to desired consistency. George likes it creamy, so it he can't see the beans. I like a few chunks here and there. For a hearty weeknight dinner, serve with tortilla chips and a scoop of the avocado & cilantro cream, plain sour cream or shredded cheddar.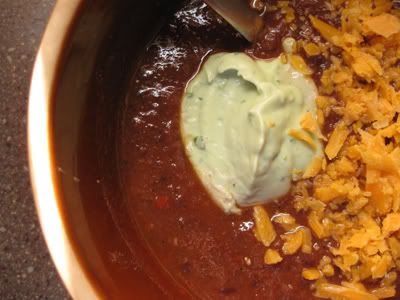 Avocado & Cilantro Cream
1/2 a ripe avocado, scooped out of the shell
1/2 cup sour cream (I used light)
1 tsp lime juice
2 T fresh cilantro, washed and chopped
tiny pinch of salt & pepper
Mix together in a blender or immersion blender (or chop the cilantro super fine, smash the avocado with a fork and then combine) until smooth. Scoop a spoonful over the top of your soup and serve.
* If you make something and it tastes bland, you probably need more salt. Try adding it a pinch at a time, stirring to combine and then give it 5 minutes to dissolve and spread its flavor. Stir again and taste. If still bland, add more in the same way. Pepper, on the other hand, is more a matter of preference and adding more won't "fix" a dish.