About the cookbooks
This week I checked out several new cookbooks from the local libraries. I found several I hadn't seen before, including:
Quick-Fix Vegetarian : Healthy Home-Cooked Meals in 30 minutes or Less
by Robin Robertson, published in March of this year.
Quick-Fix is a pared-down cookbook, laid out in black and green, and void of photos. The recipes are basics, easy to understand and simple to execute, with basic ingredients and techniques. It's probably just me and my design sensibilities, but I find little inspiration in photo-less pages. Occasionally, a recipe sounds good, meaning slightly quirky ingredients jazzing up a staple, but it's mostly traditional fare. I'd personally rather keep the Moosewood cookbook series on hand if I'm searching for quality vegetarian dishes, though the 30-minute phenomena is popularly on-pointe lately.
Pure Vegetarian : Modern and Stylish Vegetarian Cooking by Paul Gayler, published in October of 2006, stands on the opposite corner in cookery from Quick-Fix. Gayler promises delicious vegetarian food that looks museum-worthy, when he bothers to have it photographed. The design theme seems to be mirrored raw foods, which for some reason need to clasp hands next to a recipe having little to do with them. I'd much rather see a full-color book present its food unashamed, but my view isn't, apparently, mirrored by this author. To create a deeper chasm between reader and chef, Gayler uses hard-to-find ingredients (like "00" flour for his steamed oriental buns recipe) that even we hard-core but untrained home cooks have to research to understand, much less purchase. I personally appreciate when chefs using odd ingredients let you know what to replace it with if unavailable. I guess, I like things slightly more user-friendly. But this book addresses the beauty of vegetarian food, more than its practicality or even its taste. I truly appreciated the coconut-milk polenta (though I am always farkeling with recipes and found the original to be quite dry), because these particular flavors wouldn't have occurred to me. The entire cookbook can be taken as inspiration, rather than at face value. I will, for example, never make the minutely-sliced avocado wraps stuffed with salsa because, for one thing, you need to move quickly and make five of them per person. Totally impractical. But the salsa sounds yummy alone, and could easily be served alongside avocado slices with something more practical, like grill-fired veggie fajitas. I did venture to make his Mini Eggplant Egg Rolls, which are also not miniatures so I'm not sure about the title here. But the recipe turned out a bit bland. I'd recommend the addition of more spice (hot pepper, perhaps?) and definitely extra garlic.
In the end,
Quick-Fix
is a practical solution if you're a beginning vegetarian starting from scratch. If you have any experience with home cooking at all, it's probably not going to inspire you with its ingredients or meal solutions. That said, I am highly pictorial in my thinking, and any visual input spurs my imagination. So
Quick-Fix
didn't offer me the potluck of pictures I crave in order to leave me salivating. On the other hand, the food beautifully rendered in
Pure Vegetarian
wasn't worth the effort to make, being somewhat flavorless if highly creative and often a bit of a stretch. Perhaps I've underestimated the beauty of picture-less books. Hmm. It just seems, in a world where Martha Stewart's monthly glossies can perfect imagery of throw-away recipes, the hardcover cookbook world should step up and invest a little of their creative genius to plating as well. There's nothing like seeing the end product, however it's colored, to make a girl run to the grocery store inspired.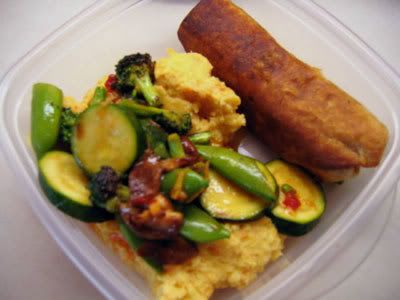 This recipe for coconut-milk polenta, adapted from
Pure Vegetarian
by Paul Gayler turned out delicious —whether or not you can see that from my leftover Tupperware of it. I was too hungry to take a photo before eating, sorry. Regardless, George loved this recipe too, a sincere feat as he loathes sweet potatoes in every form.
Coconut-Milk Polenta with Sweet Potatoes
1 sweet potato, cut into 1/4" cubes
2-1/2 c. vegetable broth
1 can coconut milk (I used the reduced fat variety)
1 c. polenta (quick-cooking cornmeal)
4 T butter
salt & pepper
In a saucepan, bring 2 cups of broth to a boil and add sweet potatoes. Cook until tender, about 10 min. Puree the broth and potatoes, then return to the pan, and add coconut milk. Bring to a boil and mix in the polenta, stirring vigorously to combine. Continue to cook while reducing heat to medium, about two minutes, stirring constantly. If thick, stir in the last 1/2 cup of broth or a little water, then add the butter, and salt & pepper to taste. Serves four.
For the vegetables, stir-fry a pat of butter with 2 T peanut oil, 2 T minced garlic and 1 T minced ginger. Add sliced shiitake mushrooms, snap peas, broccoli and sliced zucchini until cooked through, then turn off the heat and mix a few tablespoons of sweet chili sauce and a little soy into the veggies.