Workouts. . .
20 min. yoga, 25 min. walk with dog (brisk with the wind!); 1 hour reformer pilates
Whole Foods trip was exciting, but took forever between writing things down and my usual exploration. This is why George never wants to go there with me. I take years looking at stuff, which is going to continue because I get to go there so infrequently. Vicious, vicious little circle.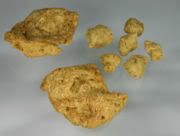 Photo courtesy of Wikipedia.com
About TVP
Properties
TVP made from soy flour contains 50% soy protein and needs to be rehydrated before use, at a weight ratio of 1:2 with water. However, TVP when made from soy concentrate contains 70% protein and can be rehydrated at a ratio of 1:3. It can be used as a meat replacement or supplement. The extrusion technology changes the structure of the soy protein, resulting in a fibrous spongy matrix that is similar in texture to meat.
When stored dry at room temperature TSP has a shelflife of more than a year, but after rehydration it should be used at once or stored for no more than three days in the refrigerator. It is usually rehydrated with cold or hot water, but a bit of vinegar or lemon juice can be added to quicken the process. from Wikipedia.com
Tonight's entrée (for me alone) is a madras curry with potato and this PVT stuff I reconstituted and tossed in turmeric overnight. Too tired to ramble on about it now, mor elater.
What I ate today. . .
6:15 a.m. – slice cinnamon-orange bread
8 a.m. – 1/2 c. granola w/ 1/2 c. skim milk & 1/4 c. blueberries, 1/2 a double tall raspberry white mocha (no whip)
10:30 a.m. – 1/2 c . of a glorious peanut butter frappuccino (no whip) yummer!
12 noon – 1-1/2 c. homemade squash-apple soup (super low fat) with a slice of wheat toast and a sprinkle (1 T) parmesan, pre-made salad with 1 T vinaigrette
2 p.m. – iced double tall 2p rasp 2p white mocha, extra ice
4 p.m. – (sugar crash) 1/2 apple, string cheese and 2 all-natural dried figs
7:30 p.m. – 3/4 c. rice with TVP curry