Workouts. . .
Brisk 40-minute walk with the dog.
Roasted Squash Tortellini with Brown Butter Sauce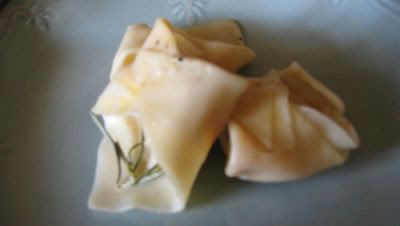 Okay, if that doesn't look good to you, don't make it. I thought it was amazing and this is (finally) something I'll make over and over again. The recipe, inspired by a late-night viewing of Giada deLaurentis on the Food Network, could probably use some adjustments here and there to make it extra nice. But it works really well as it is and I would encourage anyone who likes squash to give it a try.Roasted Squash:
1 butternut squash
1 T rosemary, minced
1 T olive oil
salt & pepper
Heat the oven to 450 degrees. Peel and discard seeds from a butternut squash and cut into 2" pieces. In the roasting pan, mix the cubes of squash with the rosemary and olive oil, sprinkle with salt and pepper. Roast 15 minutes, turn to cook evenly and roast another 5-10 minutes, until soft with the edges beginning to brown. Remove from pan to stop cooking and cool slightly. Start making the filling (below) and prepping sauce while squash cools.
Filling Ingredients:
The squash above, roasted and cooled enough to handle easily
1/2 8oz container of reduced fat ricotta (or regular, as you like)
2 oz cream cheese
2 graham crackers, crumbled
1 egg
salt & pepper
Mix everything in a food processor and puree until smooth. This will be really thick, so use a spatula to move it around and make sure it's evenly pureed.
For the sauce:
1/2 unsalted butter
2 clove garlic, sliced
2 branch of rosemary, leaves pulled
grated parmesan, for the top
Heat in a small saucepan over medium heat, until butter has browned the garlic and fried the rosemary. It's aroma is a really lovely, deep butter smell. When it smells great and has a dark rum color to the butter, take it off the heat right away. As an alternative to the garlic-rosemary, this butter would also be great with broken pecans instead.
Make the tortellini:
2 packages pre-made wonton wrappers
1 egg, beaten
Start boiling a pan of water with a little salt. Use a teaspoon to plop bits of filling into the centers of the wonton wrappers. Brush egg around the edges and seal the filling inside with fingers, making a triangle shape of the wonton. Brush egg onto one edge of the triangle, and fold the opposite edge over to touch it, like hugging arms. Press tightly to seal and place the finished tortellini on a plate. Boil the tortellini in batches of eight to ten, depending on your pan size. They'll float to the top when the pasta is cooked, about 3 minutes per batch. Use a slotted spoon to drain them and transfer to a big serving bowl. When they're all cooked up, pour the butter sauce over the top, season with more pepper, and serve with fresh parmesan grated over everything.
This may seem like a complicated recipe, but once you get going it's pretty simple. It takes as long as a lasagna in the making, once you get the hang of folding the tortellini. And they're much quicker to cook than lasagna, so you can actually eat faster.
The wontons really do taste like regular pasta when cooked, which is odd, but much faster than making pasta too. I do have a pasta machine I'm generally too lazy to use, but I may have to crank it out when I use the rest of my filling. Oh, yes, I froze 2/3 of the filling, using only one package of wonton wrappers. I made some plain ricotta-filled ravioli for George, in case the squash didn't turn out so great. But it did and he liked it, so next time I'll just be making the squash ones. And I'll be starting out halfway done, so that should be sort-of nice. Perhaps I'll try switching to pecans in the brown butter sauce. It just seems like it would add a nice crunch, which was what I'm missing.
What I ate today. . .
Tea, a'course, slice wheat toast with 1/2 avocado, salt & pepper; 1/2 mock-turkey meat sandwich with mustard and lettuce on one slice wheat bread, banana; iced venti 4 shot, 4p rasp. 4p white mocha, sipped over an hour; hard-boiled egg with salt; a ton of squash tortellini with steamed green beans; a chocolate-covered graham cracker, Clementine and fruit tea.