What I ate today. . .
Brewed black tea with 3/4 c. 1%, small banana, wheat English muffin w/ peanut butter; leftover green coconut curry over 3/4 c. rice; short chai w/ whip; iced triple grande 3p rasp. 3p white mocha, which I drank almost all of; venti 1p pumpkin spice chai w/ whip; 1 c. grapes and a peanut butter brownie; probably eight or nine pan-fried breaded tender bits with 2 T BBQ sauce & OJ, slice of breaded tofu (icky), scoop of roasted potatoes and two slices rosemary roasted butternut squash; small slice banana bread & mint tea.
Narrow escape today when I remembered I was vegetarian just before biting a yummy looking turkey pesto sandwich. Eek! Completely forgot, just as I feared in the beginning. But I remembered in time and came away unscathed to celebrate my first month of veggie living. So far, just okay. More on that tomorrow. . .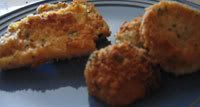 Well, it was a good thing that I made a dinner back-up plan. I decided earlier in the week to dry out some extra firm tofu and try breading it, something that I thought would go okay considering that tofu usually soaks up whatever flavor you add to it. Either I didn't marinate long enough or it being dry made it unusually stand-offish about flavor absorption. Whatever the problem, the end result was a very bland dinner entrée. Luckily, I thought, since I was breading crap, I might as well do the can of Worthington Tender Bits I'd picked up weeks ago. Tender Bits, for those who aren't aware, are vegan soy products supposedly modeled on scallops. They're really salty, so in that sense accurate, but texture-wise they are still too porous to pass for a real meat. Regardless, I really like them breaded and fried, so I popped open a can to add in with my tofu batch. My breading was simple: minced fresh rosemary, panko crumbs, flour, salt, pepper & fresh grated parmesan. I sautéed the entire shebang in vegetable oil and laid them out to dry over paper towels. Then I mixed up one of my favorite dips, a BBQ mixed with hot sauce and a dash of OJ. The results was marvelous. Perfectly crisped Tender Bits that I dunked into my sauce, though quite a few were snatched up completely naked. Anyway, I was disappointed in the tofu, and now have pretty much the whole passle left over. What to do. . . . Since I am sharing recipes, I'm going to actually share an even better breading recipe than I made tonight, with a nod to Rachael Ray for inspiration.
Orange-Pecan Breaded Tender Bits
1 oz packet pecan bits
1 c. panko (Japanese breadcrumbs) or regular, unseasoned breadcrumbs
1/4 c. flour
salt & pepper
zest of one orange
juice of one orange
1/2 c. BBQ sauce, your favorite
1 T hot sauce (optional)
1 egg, whisked in a bowl until frothy, for dipping
1 can Worthington Tender Bits, drained and patted dry
oil for frying
Heat the frying oil in a sturdy pan over medium-high heat. Use a food processor to bash up the pecans to a flour-like consistency, until at least as small as the panko crumbs. Mix pecans, panko, flour, salt & pepper, and orange zest into a shallow bowl suitable for breading. Into the bowl of whisked egg, add 2 T of the orange juice and mix together. Start breading the bits by dunking in egg batter and rolling in the pecan crumb mixture, pressing lightly to cover and brushing off excess. Drop a piece of panko into the oil and when it sizzles, it's ready to go. Fry the bits about 2-3 minutes on each side, turning when browned and crisp. Drain on paper towels or brown paper. If not eating immediately, keep warm in a 200 degree oven. Serve with BBQ sauce mixed with leftover OJ and shot of hot sauce, for dunking. Best ever!
Rosemary-Roasted Butternut Squash
1 butternut squash
3 T chopped fresh rosemary
4 T olive oil
salt & pepper
Heat oven to 350 degrees. In a large baking sheet with sides (jelly roll pan is great here), pour the oil and smear it around to coat evenly. Cut the ends from the squash and slice in half horizontally. Scoop out the seeds. Place squash cut sides down on a cutting board and slice through the skin to make pieces about 1" thick. Arrange the pieces over the oil on the baking sheet and sprinkle with rosemary, salt and pepper. Bake 30 minutes, then flip squash to cook second side. Bake another 15 minutes, until soft to the touch and a little caramelized on both sides.