What I ate today. . .
Toasted wheat English muffin with T peanut butter, cup tea with 1/2 c. 1% milk and a pump of vanilla syrup, edges of the banana bread I made the night before; 1-1/2 baked bean burritos with T sour cream and 2 T salsa; 20 mini carrots; iced double tall 2% 2pwhite mocha w/ 2p rasp.; 1oz shot glass filled with whipping cream and at least half of a slice of iced lemon pound cake; 1/3 of a 4-shot iced venti 4p rasp. 2% 4p white mocha; 1 c. white rice with 2 c. thai green cocounut curry with vegetables (recipe below); pinched off edge of peanut butter brownie.
My experimental green curry tonight was actually quite good. I wasn't sure about getting a powder (from Savory, the Spice Shop) to recreate authentic Thai flavors, but it tasted absolutely true to form, spicy with that deep heat that catches your belly. The experiment included several of these cans of Asian veggie products that I have never seen before. They are both made by Companion Worldwide, out of Taiwan, and have labels in two languages. One, a can of Braised Gluten (Seitan Tidbits), has sugar added to it and tastes exactly like the tofu pocket sushi that you can get at any sushi restaurant. The little chunks aren't as well-formed as they look on the label, with loose folds that fell apart during the long simmer of my curry. The second can, Braised Bean Curd, was squeezed into 1/2" can-long strips. Still a little sweet, this option just didn't look quite right. I ended up breaking them up in my bowl afterward, but I cooked it together so I could tell them apart when tasting. The last thing I tested was some slices of extra firm Boulder tofu, drained and squeezed dry for an hour in a kitchen towel. It was really quite firm by the time I was adding it to the sauce.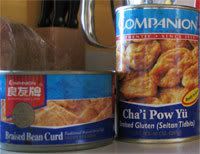 Anyway, the results were that the tofu was okay (should have marinated it for longer to get more flavor out of it), and the others were a little awkward tasting, too sweet for the sauce. I should have tried a few more things, but I didn't want to open 15 cans of stuff, especially when I didn't know whether the curry itself would be good. It's good enough to finish eating, but I probably wouldn't make it again with any of those things. I'd rather have just had more vegetables instead, but then, of course, we'd be back to the protein issue, again.
Thai Green Coconut Curry
2 T green curry powder
15oz can coconut milk
1/2 tsp turmeric
1/2 c. water
1 T soy sauce
up to 1 pound of any soy product, chopped into 1-2" chunks
1 ripe tomato, cut into eight pieces
1/2 yellow onion, quartered & sliced
1/2 bell pepper, quartered & sliced
1 eggplant, peeled & cut into 1-2" chunks
2 T fresh chopped cilantro
In a large, heavy saucepan, warm a little oil over medium-high heat. When hot, add onion and pepper slices to sauté for about 5 minutes. Meanwhile, place turmeric in bowl and add your soy product (which should be squeezed as dry as possible), toss to coat in the spice. Remove onion from pan, and add eggplant to sauté, about 5 minutes, until browned slightly on several sides. Remove from pan. Turn heat to medium and add the can of coconut milk. When the milk is simmering, add the curry powder and mix completely. Add tomato pieces and let simmer 2 minutes. Add soy product to the pan and simmer gently for 5 minutes alone, then add the water, soy sauce, onion, eggplant, and pepper. Put the lid on the pan and let simmer over low heat for 20 minutes. (I use this time to make rice and chop my cilantro.) Add cilantro to the pan and cook, uncovered, for the last five minutes. Serve over rice.
The nice thing about this recipe is that with the basics, curry and coconut milk, you could mix up the vegetables and protein into any variety of things. You can also use this recipe with any green curry powder. I like recipes with eggplant because it absorbs so much flavor from sauces, but zucchini and yellow squash would also be nice.