Workouts. . .
20 minute walk with the dog.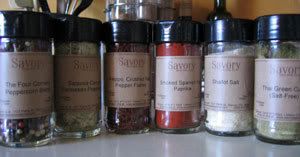 Today I visited Savory, the spice shop, in downtown Denver. I got sea salt, a green thai curry mix, smoked paprika, a parmesan pepper mix, an interesting peppercorn blend, Madagascar vanilla and some crushed red pepper. I love this shop because it offers fresh herbs and spices that cost less than grocery store blends, plus some crazy alternatives that add an extra splash of something to the same old recipes. One of my favorite things is trying their different salts and sugar blends. You can shake the testers right into your hand and try everything before purchasing, making it less scary to actually buy Violet Petal Sea Salt.
Across from Savory is the new downtown Vitamin Cottage, where I also stopped to check out some meat alternatives. George is not excited about the new package of fake bacon, but I am. The photo on the package is slightly blurry, which may be a sign that it's not going to cook up in the typical bacon-y way pictured.
What I ate today. . .
Two slices of wheat toast w/ peanut butter, 1/2 a banana & 1 T wheat germ; double shot espresso w/ 1 T whipping cream and 2 raw sugars; grande chai; two slices mushroom pizza with 2 c. lettuce, handful chickpeas, 5 grape tomatoes & French dressing, half a pear; tall white mocha w/ peppermint; a homemade breakfast burrito with beans and veggie sausage; a brownie w/ pecans & homemade chai w/ 2% milk.