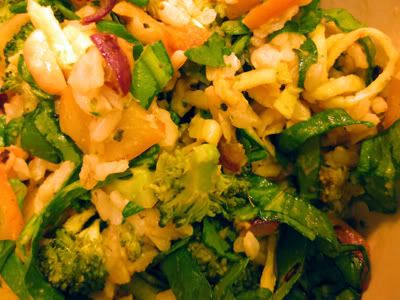 Brown Rice Salad with Peanut-Butter Dressing
Serves 4
Salad
1 crown broccoli, cut into small pieces
1 tsp peanut or sesame oil
1 egg, beaten in a small bowl with 1 tsp of water
1/2 red onion or 1 shallot, minced
1 crisp apple, thinly sliced with skin on
3 cups fresh spinach leaves, thinly sliced
3 cups cooked brown rice
handful of salted peanut halves or lightly chopped whole peanuts
Dressing
2 T creamy peanut butter
1/4 cup apple juice or water
1 tsp sesame oil
1 tsp soy sauce
2 tsp rice wine vinegar
pinch brown sugar
1 tsp fresh ginger, minced
pinch red pepper flakes, optional
salt and pepper to taste
Heat the oven to 400º and spread the cut broccoli out on a baking sheet or tray. While the oven heats, mix the dressing together and set aside. Toss the broccoli with the teaspoon of oil and bake 15 minutes, until browned on the edges. Set aside.
Over medium heat, set a small frying pan to warm and spray with nonstick spray or brush on a thin coat of oil. Add half of the egg mixture, turning the pan to coat (like with a crepe batter). You're making two thin egg pancakes. Flip the egg when it's solid, then set aside to cool and start the second one.
When the eggs are complete, add a smidge of oil to the pan, turn it up to medium-high, and saute the onions and apples together until browned. Sprinkle with 1/2 teaspoon of sugar and take off the heat. Stir and set aside to cool slightly.
Put the salad together by mixing the rice, spinach, broccoli, apples, onion in a large bowl. Layer the egg pancakes on top of each other on the mixing board. Roll up into a cigar shape, then thinly slice across (see photo). Add sliced egg to the bowl and the peanuts. Pour dressing over the top and toss to coat. Season with salt and pepper as needed. Serve alongside teriyaki tofu or salmon with chili glaze.