I adore cookies without bothering to organize or group my likings based on ingredients. Yet I've recommended this recipe to seven people in the last week, and I don't tend to pass cookie recipes along much. Mostly because I don't want everyone to think I am constantly feeding my face with cookies. It's a matter of basic pride. This recipe is so dear to me, that I'm overcoming my fear by posting it here, atop all of last week's frantic emailing.
Chopping the chocolate and nuts so finely is a bit of work, but I promise the good quality ingredients and time spent is well worth it. Delicately crunchy with a bit of buzz from coffee beans, these cookie bites have the perfect mix of chew and crumble. If you try only one new cookie recipe a year, flag this one.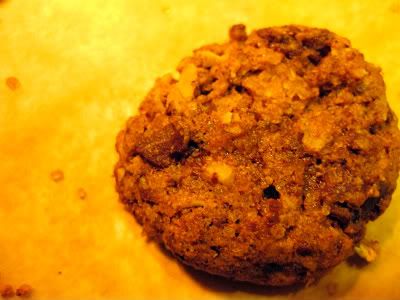 Heidi Swanson's Chocolate Chip Cookies
(Only slightly modified by me)
5 ounces good-quality semi-sweet chocolate bar, at least 60% cacao (I used Ghirardelli)
1 cup whole wheat pastry flour
1/2 teaspoon baking powder
1/2 teaspoon baking soda
1/2 teaspoon salt
1 cup old-fashioned rolled oats
1/2 cup walnuts
2 tsp finely ground coffee
1/2 cup unsalted butter, at room temperature
3/4 cup sugar in the raw
2 tablespoons unsulphured molasses
1 large egg
1 1/2 teaspoon vanilla extract
1/4 cup turbinado sugar, for sprinkling on top
Preheat your oven to 350F degrees, racks in top and bottom third. Toast the walnuts until lightly browned, about 10-15 minutes, checking frequently once they start to color. Set aside to cool, then chop finely into a tiny mince.
Use a sharp knife to scrape the chocolate bar into dainty, thin shavings, avoiding chunks more than 1/8" in size. Whisk the chocolate together with the flour, baking powder, baking soda, salt, oats, walnuts, and coffee in a mixing bowl. Set aside.
With a mixer, beat the butter and sugar until light and fluffy. Add in the molasses, then the egg, then vanilla, mixing completely. Make sure to scrape the sides of the bowl and get every gooey bit mixed in. Add the oat-flour-chocolate mixture and stir by hand until the ingredients barely come together into a uniform dough.
Scoop out the dough in level teaspoons, placing an inch or two apart on prepared baking sheets lined with parchment (or nonstick sprayed). Use two fingers to smoosh each ball into a round-ish patty, and sprinkle a pinch of large-grain sugar over the tops. Bake for about 8 minutes, checking to ensure they're not going too brown. Cookies should be golden, slightly puffed and fragrant. Remove from oven, let cookies sit on the baking sheet for another minute, just to set. Move to a wire rack to cool.
Makes about 8 dozen bite-sized cookies that also freeze extremely well.
Recipe adapted from Heidi Swanson of
101 Cookbooks
, whose gorgeous photos make these look even better, has the original recipe sans coffee.