Workouts. . .
15 min. yoga; 40 minute walk outside (199 calories burned)
It was so windy today, I couldn't bear running. I decided instead to walk the dog. Bad idea. By the time I got home, my hair looked stupid (which is not atypical) and I could taste the dirt in my teeth. The dog kept turning to look at me during the really hard blowing as if to ask "why am I here?" and I had no answer. We just walked really quickly and I held my ears part of the time to warm them up. Didn't feel like 60 degrees out.
I have to admit to some very poor meal-planning today. And a little twinge of pride that I don't need to eat breakfast keeps coming over me. I normally use up so many calories eating a nice, balanced meal that now I feel this sense of freedom when I grab a snack at work and don't eat lunch until 1 or so. Of course, I'm drinking plenty of calories in between, mixed with a thousand pounds of sugar. But fewer calories. I also felt pretty proud of myself today when nothing was sore after running yesterday for the first time this season. I should have felt proud enough to run again, but apparently the streak of pride was a shallow one.
Tonight's recipe turned out rather well, though I should note that I succumbed to the guilt and made G a nice side of stir-fried beef and scallions — noting that the scallions were all nicely clotted on one side of his plate when he finished, nice. There was no tofu or any fake meat. Instead I used the combination of beans (edamame) and nuts (cashews) to get protein and fat content. I think it worked because I feel glutinous right now and I really didn't eat that much. Sometimes rice does that to me.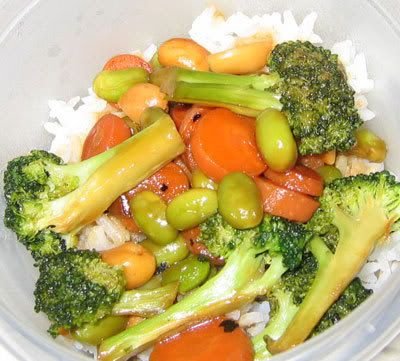 Stir-Fried Carrots, Broccoli, Edamame and Cashews
1 medium head of broccoli, cut into stemmed pieces and then in halves
2 large carrots, peeled and sliced
4 scallions, sliced
1/2 c. frozen edamame
1/4 c. cashews, preferably unsalted
1/4 c. orange juice
1/2 c. soy sauce (or 1/4 c. soy and 1/4 c. water, if you don't like things salty)
2 T brown sugar
1 T corn starch
2 T peanut or canola oil
Mix the corn starch, orange juice, soy sauce and brown sugar in a small bowl. Stir really well. Heat a wok (or large pan on the stove) to 350º (or medium-high) until 2 T of peanut oil smokes. Add carrots and broccoli, sauté about 2 minutes, stirring often, then add edamame. Cook together 2 minutes, until edamame are thawed. Add scallions and cashews. Pour small bowl of mixed sauce over the entire thing and let simmer until thickened and glossy, only about a minute or two. Serve with rice or noodles to soak up the sauce.
So, I forgot to mention earlier that when I re-made the butternut squash tortellini, I doubled it up and froze half of them. Here's what they looked like the next day, when I grabbed them off the plate and packaged them for the freezer. Now it'll be sooo much easier to eat them quickly the next time around. I'm already looking forward to it!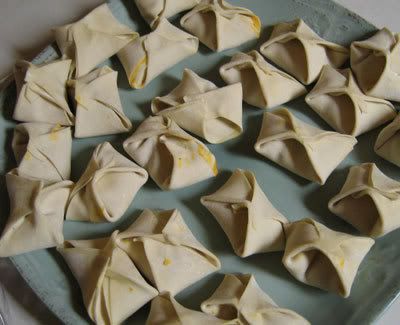 What I ate today. . .
5 a.m. – slice of pumpkin loaf at Starbucks and a finger banana
7 a.m. – one third of an iced nonfat double tall 2p rasp, 2p white mocha
9:30 am – triple grande 3p rasp 3p white mocha (no whip)
1 pm – a squash-and-corn enchilada with 1/4 c. rice and less than that of refried beans, 5 tortilla chips, 1 T salsa and 1 T RF sour cream
4 pm – post-walk snack of an iced triple grande 3p rasp 3p white mocha
6: 15 pm – 3/4 c. jasmine rice and 1-1/2 c. stir-fried veggies (seriously, seriously full)
8 pm – tea with milk and 1 tsp sugar